May 7, 2013
As the average age of the population goes up with people surviving many years more than their allegorical three score years and ten, the incidence of Alzheimer's disease and other forms of senile dementia will rise too. Many people can suffer symptoms for many years and yet live independent lives or at least with minimal care intervention, so it is critical for designers and manufacturers to take this into account if their products are to …
May 3, 2013
Carl Zimmer offered some insights at TED-Ed into how dinosaurs got their plumage and evolved into the flying birds, excellent birds, we see today. This is witty animation plucks up the courage to fill in the gaps.
On an entirely unrelated note, I wrote a song about flight, which you can hear on my SoundCloud page or via my Songs, Snaps and Science site.
May 2, 2013
My publisher just added up all the sales of my book Deceived Wisdom including hardback sales since November, Kindle and ePub downloads and the Audible editions. The grand total so far…drum roll please…is 10,000 copies, which ain't bad for a popular science book (although it was #1 on amazon for a while ahead of Sir David and ProfBrianCox) and my publisher E&T Book's first foray into science. Many thanks to everyone who took the …
Apr 30, 2013
Next time you're sipping on your skinny, frothy mochachocafrappalatteccino with maple syrup and cinnamon at the local Costabucksorthree coffee shop and surfing on their EasyHack(TM) wireless internet spare a thought for the grounds. The burnt out and scalded fragments of beans gone by that in this household are recycled via the compost bins but on the industrial scale represent an international commodity waste product you might not at first appreciate but represents a truly pressing …
Apr 24, 2013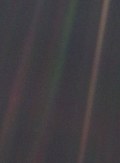 The Pale Blue Dot is a photograph of planet Earth taken in 1990 by NASA's Voyager 1 spacecraft (launched 1977) when it reached 6 billion kilometres (3.7 billion miles) from Earth in 1990. In the photograph, Earth is shown as a tiny dot (0.12 pixel in size) against the vastness of space. The Voyager 1 spacecraft, which had …
Apr 17, 2013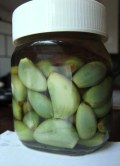 Pickler Andrew Dalby responded to one of my recent tweets about not cooking asparagus in lemon juice because it discolours it. He had found that his garlic cloves turned blue when he pickled them in spiced malt vinegar. The discolouration doesn't mean that the pickles are inedible.
Now plant material turning blue in acid (vinegar is weak acetic acid) …
---
Supporting Sciencebase

Indigo® Instruments offers: pH litmus test paper chemistry molecular models neodymium rare earth magnets and hard to find science kit and chemical education resources.