Dapoxetine for Premature Ejaculation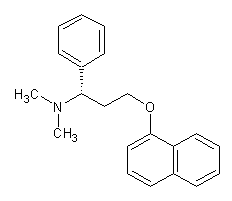 Dapoxetine hydrochloride, was originally an antidepressant drug but researchers discovered it had an interesting side-effect.

JnJ company ALZA Corporation announced that it has submitted a new drug application to the U.S. Food and Drug Administration (FDA) for dapoxetine hydrochloride (S-(+)-N,N-dimethyl-a-[2-(naphthalenyloxy)ethyl] benzenemethanamine hydrochloride, structure of dapoxetine without HCl shown on the right) a new treatment for premature ejaculation (PE). Premature ejaculation is the most common male sexual dysfunction, affecting as many as one-third of men worldwide at some time in their lives.

"Premature ejaculation is a frequent and distinct medical condition that can severely impact quality of life, affecting the physical and emotional well-being of patients and their partners," says James H. Barada, M.D., urologist at the Center for Male Sexual Health, Albany, NY, and board member of the Sexual Medicine Society of North America (SMSNA).
If approved by the FDA, dapoxetine hydrochloride would be the first prescription treatment designed specifically to treat PE and will be marketed in the U.S. by Ortho-McNeil Pharmaceutical, Inc.

ALZA Corporation, headquartered in Mountain View, California, is leading the next generation of drug delivery, with the world's broadest array of technology platforms, including oral, transdermal, implantable, and liposomal technologies. More than 30 products marketed in over 80 countries worldwide now incorporate ALZA's drug delivery technologies.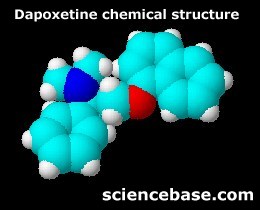 Dapoxetine (3D structure of dapoxetine shown left) was originally an antidepressant and one of the side effects of several antidepressants is retarded ejaculation (an inability to reach orgasm), inability to sustain an erection and/or impotence. It was pharmacologist Karl Thor who spotted the repositioning potential of Dapoxetine and suggested its indication for PE. Assuming there are now last minute regulatory problems, it is assumed that the drug will be granted a licence for this indication in the near future. Numerous drug companies have seen the potential benefits of reprofiling old drugs rather than starting from scratch with each new disease or disorder.

Since this article was written regulatory approval for dapoxetine hydrochloride has been refused, so read on to discover how to cure premature ejaculation, permanently.

Back to the sciencebase homepage