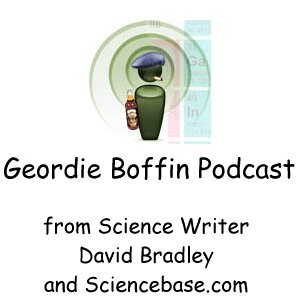 The Geordie Boffin Science News Podcast launched September 22, 2006. Episode 1 is now available for immediate mp3 download, or play it direct in the sciencebase blog.
Not sure what a Geordie is? Let me explain, if your mother could spit in the river Tyne while you were being born, then you're a Geordie. A marginally more acceptable definition is simply someone who originates from Tyneside and the former coal mining areas of the north east of England. The etymology of the word itself is thought to lie in a diminutive familiar (or hypocoristic) form of the name George. Lots of Geordie Georges are known as Geordie as well as being Geordie and speaking the Geordie dialect. Star Trek's Geordi La Forge is named for a fan, George Laforge, who died of muscular dystrophy. In the show, Geordi La Forge wears a stick on visor, which is kind of like a stick-on bra, but different. The Geordie accent is a wonderful thing. If you have one try saying the following phrase to your non-Geordie friends and note their reaction: "The gigantic diplodocus rode his Kawasaki off the cliffs at Cullercoats".
Not sure what a Boffin is? As with the word Geordie there is no definitive etymology, but it's a British word, occasionally used in Geordieland (not a theme park, just the part of the world from whence Geordies come), meaning a scientist or technical expert. It's almost equivalent to the US term "egghead" and is commonly used in tabloid headlines in a derogatory manner, viz. "Boffins eat cloned babies". The Geordie Boffin podcast would prefer to see this term used affectionately and reserved for those of a technical bent who are held in high esteem. An example of a forthcoming headline utilising the term boffin positively might be: "Boffins solve global warming".
Not sure what Science News is? Really? Well, this site's full of it...science news that is, you can find some science news here, or better still, download our podcast, why don't ya?
Not sure what a Podcast is? Oh, come on! What planet have you been living on? Ah, you don't live on a planet, it's a pluton? I see... Wikipedia definition here.
Wondering how to add an mp3 player to your website? No? Well, just in case you ever think that's something worth doing check out this link.
And, as we say in the sciencebase science blog, if you can't blind them with science, baffle them with bullshi