Molecular Modeling Service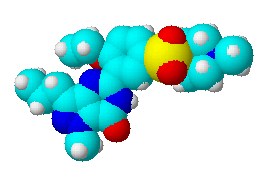 MOLECULAR MODELING AGENCY - Lots of visitors to Sciencebase.com are searching for particular compounds and chemical structures. Usually, they find a science news item or chemistry feature article I have written that mentions the chemical they're interested in. Viagra (sildenafil citrate) is a popular one, the chemical structure of bleach too, and in this anniversary year a molecular model of morphine is a common search term.
As a service to readers, Sciencebase.com once offered an inexpensive structure drawing service. We have the resources to find your molecules of choice and produce a chemical structure in almost any format you wish, as 2D or 3D images, mol files, ChemDraw and ChemSketch formats, ISIS/Sketch, and in basic non-chemical graphical formats such as gif, tiff, jpg, pdf etc. We can also source a structure and provide an INChI format file if you require it.
Shown are two versions of sildenafil citrate (Viagra), above left a 3D model, (low-res web version shown), high-res print quality available. To the right is the 2D representation showing the citrate ion, which allows Viagra to be formulated for oral absorption.
If you're after traditional molecular model kits, then visit my good buddy Stephan at Indigo Instruments, who will do you a good deal on the best real molecular models around. You might also like to read my feature article on the subject of why real molecular models still have a place in science education.