There's a "photo" on the internet that's been circulating for months, but is gaining new traction on Facebook (and more recently on Twitter thanks to a certain biology prof).
THE PHOTOS SEEM GENUINE.
But, given the public bile surrounding these photos I didn't want to give any vigilante details that might help someone locate the alleged hunter. There is an additional photo and description on the hunter's blog post where he discusses the various people pictured and how killing an elephant was apparently his life's ambition.
A detailed analysis of the low-res, grainy images that were available show that (obviously) the main man in both photos is the same person. We might assume that he shot the elephant and had two photos taken, one with a fellow hunter and a second with various other people on the hunting safari at a different time. In one photo (the one with the group as opposed to the pair) flash was used, hence the colour tonal differences between. The sky behind and the fact that the surrounding foliage and twigs etc on the ground have not moved.
Hoaxslayer did a detailed analysis and also suggests that it's a genuine photo from a hunting safari company called "Frikkie du Toit" which has a gallery of various people with their kills.
Here's the photo that's doing the rounds right now: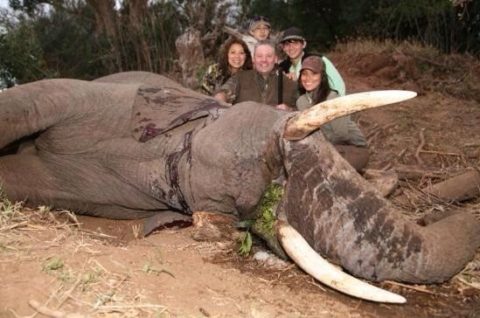 Accompanying this photo are a lot of expletive-heavy comments and the text "This Rich Family Killed an Elephant while it was eating. Let's make them famous. I see 5 animals and 1 elephant!"
There's a similar photo with one the same hunters and another man on the "Frikkie" site: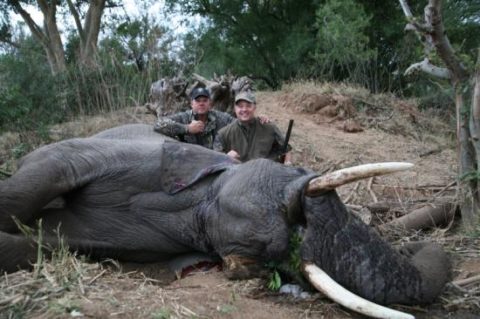 I have more information on this, but do not wish to be part of any vigilantism despite how abhorrent I feel hunting for "entertainment" so obviously is and so am not publishing the additional details I have regarding the hunter's identity and his blog.