Nov 15, 2011
Update: it is quite astounding the venom correspondents unleash on me for writing about this subject. An expletive-laden accusation of being an egotistical Nazi just arrived, and it claimed that somehow humans have had millions of years to learn about supplements and listed a pile of references from Wikipedia simply because I am not convinced my the marketing hype surrounding this and many other products. Quite astounding and simply strengthens my resolve developed over the last twenty years plus in debunking pseudoscience. The latest correspondent even said he was glad that I wasn't taking the supplements as that might lead to a shorter life for me! The latest was far more threatening and pathetic. Charming indeed. If anyone else wishes to send me such threatening missives, I will pass them on to the feds and hope they throw away the key.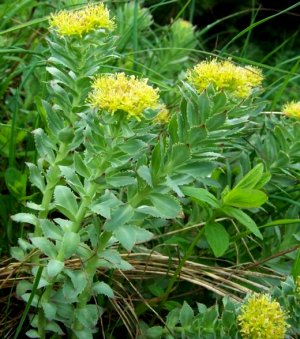 Rhodiola rosea is a so-called "adaptogenic" herb that countless spam emails claim can improve wellbeing, exercise capacity and cognitive performance as well as reducing stress responses. I have written about it before and debunked this spurious CAM remedy at length.
I keep a weather eye on PubMed for new mentions, for when someone comes up with evidence for some…any…benefit. None so far. But, a new paper in the British Journal of Sports Medicine demonstrates once again that Rhodiola rosea "does not alter cognitive function, exercise performance or salivary cortisol."
There was apparently some evidence that using this herb with L-carnitine could somehow alter metabolism during exercise and improve performance. Doesn't seem to be the case. Once again, the message instead seems to be: save your money.
The study examined the effects of acute ingestion of a commercially available Rhodiola rosea beverage (250 mg, 3% Rosavin) with and without 500 mg of L-carnitine. Double-blind, randomised, placebo-controlled, crossover-design, with 18 healthy, active men and women (age, 21±6 years).
I know almost for certain that advocates will now start telling me their anecdotal tales of how wonderful is R. rosea. Please don't. I've heard them all before. They are not proof of efficacy because you cannot "control" for yourself as an individual. Oh, and yes I realise that the study only had 18 people. But, that's roughly the same order of magnitude for those studies that claim efficacy and are used by the herbal spammers.

Muñiz-Pumares D, Lage-Guede A, Firth-Clark A, & Allgrove J (2011). Effects of acute supplementation with Rhodiola rosea and L-carnitine on exercise performance, cognitive function and cortisol in healthy active volunteers. British journal of sports medicine, 45 (15) PMID: 22076993