World Book Day Offer: To celebrate WBD – 2013-03-06, I've made the e-version of Deceived Wisdom just 99p (about $1.50) for the day. You can buy it in PDF, mobi or ePub format for your computer, device or other e-reader from my publisher E&T through the Sciencebase site.
Click the Paypal button below to buy a copy of Deceived Wisdom right now in a choice of formats compatible with iPad, Kindle, Nook, PC, Mac and Linux computers. Delivery is via a one-time link sent to your PayPal email  address for security, please use the download link as soon as you receive it, email me if problems.
Deceived Wisdom ePub, for Nook, PlayBook, Android, iPad etc
Deceived Wisdom PDF, for any device with a PDF reader
Deceived Wisdom mobi, for mobipocket devices and software
Kris Dyer, narrator of the Audible version: "I LOVED your book, it's brilliant. Funny, insightful, entertaining, readable – everything a book should be."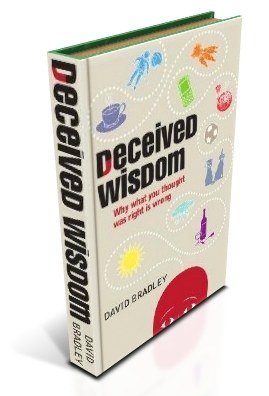 Deceived Wisdom officially launched 2012-11-08 and Sciencebase readers can download a specially priced electronic version (DRM free) in ePub, PDF or mobi format for their iPad, PC, Mac, or other system right now.
The book, reached #1 in Amazon Top 100 science publications and positive reviews from TV physicist Jim Al-Khalili and well-known journalist Francis Wheen saying: "Judging by the sampler, it's my dream book. I may well have to order multiple copies as Christmas presents." Science author and chemist John Emsley had this to say: "I really enjoyed the book and indeed read it all within a day. It really was unputtabledown as they say." Brian Clegg calls it an "excellent collection of science surprises", "a top notch box of chocolates".
David Bradley has worked as a science journalist and writer for more than 20 years, he has co-authored and edited books with John Gribbin, Ian Stewart, Joel Levy, Robert Slinn, Richard Dawkins, Adam Hart-Davis and others.
Here's the link for Amazon UK orders.