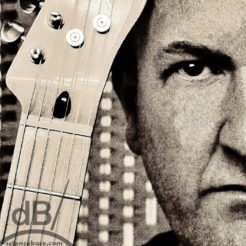 I'm a science journalist by day, a photographer, dog walker and beer drinker most of the time I'm away from my desk, and a musician by night…
That is to say, I earn my living writing about science, I take lots of photos, drink a few pints, and sing and play in a couple of bands, including C5, and a choir (BigMouth). You can hear my latest solo and collaborative recorded music on SoundCloud and BandCamp.
I've always been in love with music, since my first baby rattle and toy guitar as a tot, been attempting to play guitar ever since. It is only in the last decade or so that I have performed live and written and recorded my music, first with a community choir and then in a gigging band C5. Most of the songs I've written and recorded either solo or in collaborations over the last few years are available to stream or download from BandCamp. Some of my covers and originals are on iTunes as well as Spotify, Youtube channel, SoundCloud, and HearThis.
Here's a sneak preview of the tracks on The Sea Refuses No River album which I am hoping to release on CD soon, but in the meantime you can stream for free download for a fee right now. It's a collection of pseudobiographical songs David Bradley Music.
Here's a very short list of a few of musicians, bands, and artists I admire: Athlete, B52s, Badly Drawn Boy, The Beatles, Blondie, Blue Aeroplanes, Blur, David Bowie, Kate Bush, Camel, Glen Campbell, Phil Collins, Crowded House, The Cure, Paco de Lucia, John Denver, Al Di Meola, Thomas Dolby, Doves, Editors, Elbow, Fred's House, Robert Fripp, Peter Gabriel, Genesis, Steve Hackett, Steve Hillage, Carole King, King Crimson, The Kinks, Led Zeppelin, Manic Street Preachers, Joni Mitchell, Van Morrison, Pavlov's Dog, Placebo, Porcupine Tree, Radiohead, Gerry Rafferty, R.E.M, Nile Rodgers, Rush, Seals & Crofts, The Smiths, Squeeze, Steely Dan, Andy Summers, Talking Heads, James Taylor, U2, Yes, Neil Young, there are many others.
I've been told that I occasionally sound like a Geordie Glenn Tilbrook (that's according to the Manchedelic Roger Waters better known as Dek "Mono Stone" Ham), and sometimes George Harrison, Steely Dan, Peter Gabriel, early Oasis, Phil Collins, Sting, James Taylor, David Bowie, and Stephen Stills…I couldn't claim to have even an ounce of the talent of those people, but I do reckon I've finally developed my own sound now that doesn't wear my influences quite so prominently on my silk kimono sleeves as earlier songs. e.g. my recent song Turncoats.