Twitter Counter tracks statistics of more than 10 million Twitter users, it's always interesting for us uber-geeks to take a look at such stats and having made The Independent's Top 100 British Twitter users (at #73 this year, down from #47 in 2011), I thought I'd show you the enormous impact such a placement can have, or not, as the case may be. Sciencebase did gain several hundred new followers on Twitter and Twitter counter reckons we'll have 16k within a week or so. 100k within a mere five years! Thanks for joining us to those who came along after The Independent published their list.
You can see from the 3-month rolling chart that the impact of a British national newspaper on a site like this is not enormous…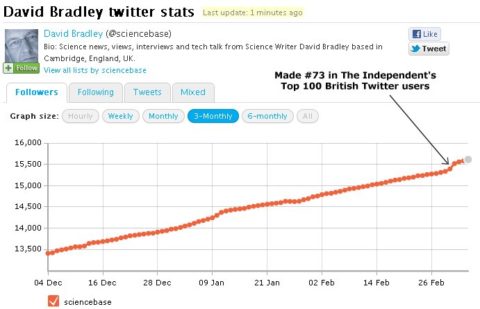 David Bradley Twitter Stats – Twitter Counter.