Follow Sciencebase on Twitter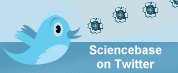 You can follow me as @sciencebase on Twitter to keep up to date with my writing for various magazines and websites in the areas of science and technology. I also post and RT sci-tech-med news from other sources.

A Mashable article last year, by Andrew Maynard, 13 Twits Who Will Change Your Perspective on Reality, made some grand promises on my behalf and hopefully following my twitter feed will, if not change your perspective, at least give you a slightly off-kilter view of things.