Erectile Dysfunction and Urinary Tract Symptoms
By: David Bradley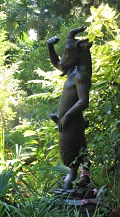 Viagra improves urinary tract symptoms in men with erectile dysfunction, according to US researchers. Viagra, or sildenafil citrate, is well known in treating erectile dysfunction (ED), but has also shown promise in the treatment of prostate and lower urinary tract symptoms (LUTS) associated with prostate enlargement; commonly associated with ED. Kevin McVary presented results of his team's study to the Sexual Medicine Society of North America in New York on 21st November.

McVary and colleagues conducted a twelve-week, double-blind, placebo-controlled clinical trial of Viagra in men aged 45 years and older who had ED and LUTS associated with benign prostatic hyperplasia (BPH), an enlargement of the prostate gland that causes an obstruction in the flow of urine through the urethra. Study participants were assessed for changes in erectile function, self-esteem, LUTS associated with BPH, quality of life and maximum urinary flow rate. Results of the study showed that men who took Viagra (either at bedtime or 30 minutes to an hour before anticipated sexual activity) experienced a significant improvement in erectile function, self-esteem and quality of life, with a concomitant decrease in BPH symptoms.

More than 50% of men 40 years and over have difficulty achieving or maintaining an erection, while those over 50 years have some sign of BPH. Research has shown that almost three quarters of men with BPH symptoms also suffer ED. Results of the Northwestern study have important implications with respect to the causes of concomitant prostate symptoms and ED.