The "book of the blog" and a whole lot more Deceived Wisdom is availabe in hard cover from all good book stores online and offline, including amazon and Kindle, Book Repository and Waterstones, Blackwell's. There is also an Audible edition narrated by Kris Dyer, which you can get for free when you sign up for Audible. There is electronic version in PDF, epub, mobi available, just drop me a line if you want a copy for your Kindle, mobile device, Nook, PlayBook, Android, iPad, computer, phone etc (PDF, mobi and ePub versions available) – feedback @ sciencebase dot com.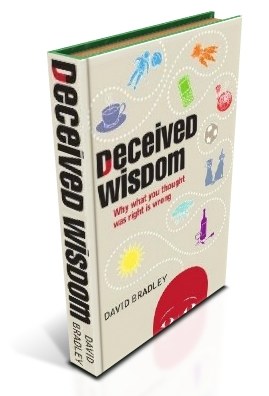 By the way, you don't need a Kindle to read a Kindle book, you can read it with any Kindle app on your iPad, laptop or desktop computer.
Here's how my publisher, E&T, describe the book:
David Bradley's clear and witty writing examines the science behind the statements to reveal the truth behind many popular myths. This extended ebook sampler contains the following entries: 'A different kind of snow', 'Infernal combustion and the mobile phone', 'Sweetener for my sweet', 'Only dedicated practise makes perfect', 'Theory under pressure skates on thin ice', 'The three Rs of Sustainability: Reduce. Re-use. Recycle.', 'Red, red wine', 'Highly Strung' and 'Dozy Deceptions'.