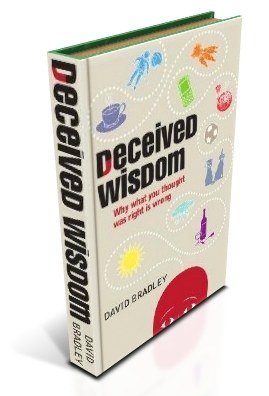 The two times #1 amazon bestseller Deceived Wisdom is available in hardback (from Amazon, Waterstones,  Book Depository etc), there's an ebook version, and a great Audible edition  narrated by comedian, actor, voiceover artist Kris Dyer:
Deceived Wisdom ePub, £5 for Nook, PlayBook, Android, iPad etc
Deceived Wisdom PDF, £5 for any device with a PDF reader
Deceived Wisdom mobi, £5 for Kindle and mobi pocket devices and software
About Deceived Wisdom
"Did your mother remind you to take off your coat when inside or you won't 'feel the benefit' when you leave? Have you ever been informed that what you need to cool down is a nice cup of tea? And are you bored of being told that you have to let that red wine breathe first to improve its taste? If so then 'Deceived Wisdom' is the book for you. Organised into easy-to-read standalone sections, it looks at the facts we all think we know and examines why we don't know them at all. David Bradley's clear and witty writing examines the science behind the statements to reveal the truth behind many popular myths. Entries include: Why urinating on a jellyfish sting does not help (in fact it can make things worse and is at best rather embarrassing for the stingee); Why recycling aluminium cans is not a waste of time; Why drinking diet cola will not make you blind; Why cats are not smarter than dogs; Why the 10,000 hour practice rule is not what it seems (cf Gladwell!); Why your mobile phone won't give you cancer; and Why those spam ads for herbal 'enhancement' are a scam."
Praise for Deceived Wisdom
TV pundit Francis Wheen "Judging by the sampler, it's my dream book. I may well have to order multiple copies as Christmas presents.
Science author and chemist John Emsley "I really enjoyed the book and indeed read it all within a day. It really was unputtabledown as they say."
Radio 2 veteran Kris Dyer "I loved your book, it's brilliant. Funny, insightful, entertaining, readable – everything a book should be."
Andy Lewis of Quackometer "Fun skeptical stocking filler."
Tony Davis of Elemensus "Starting to think of Bradley as the Bill Bryson on science writing"
Phillip Broadwith, Chemistry World "the book is excellent"
Chemist author Robert Slinn "It is one of those books that you cannot stop reading."
Ian Liberman (creator of Rock Trivia) "Engages the reader with a sense of that learning can also be fun."
Science author Brian Clegg "an excellent collection of science surprises," "a top notch box of chocolates."
Colin's Beauty Pages "there are hundreds of topics so you are bound to find something, and probably quite a lot, that tickles your fancy."
The amazon #1 bestseller, Deceived Wisdom, is also available for Kindle.