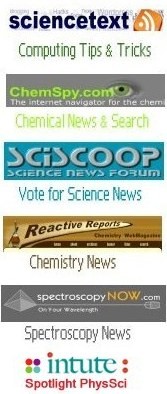 UPDATED: 2011-01-26
Just a quick reminder of the various sites now associated with the Sciencebase Science Blog:
Over on http://www.sciscoop.com we have an active science news forum, recently discussing everything from the morning banana diet scam to space elevators.
On http://www.sciencetext.com you can find Sciencetext tech talk, technology discussion, news and hacks, social media, blogging, websites and more.
Free trade magazines, white papers, and other resources can be found at https://sciencebase.tradepub.com, including free subscriptions to Nature Reviews Drug Discovery, The Scientist, and BioTechniques, all journals to which I have contributed.
On http://www.reactivereports.com, http://www.chemspy.com, and http://www.chemweb.com – chemistry news, molecular views, and chemical interviews with additional news and commentary from Robert Slinn on Chemspy.
News with a spectroscopic, cheminformatics, or diffraction connection can be found at http://www.spectroscopynow.com
That's probably enough to be going on with, do check out the Sciencebase sibling sites, there are lots of free resources to read, download, and even listen to. But, if that's not quite enough, you can find Sciencebase on social media, networking and bookmark sites, including twitter, digg, delicious, facebook etc. Usually available as username sciencebase or as David Bradley.
Meanwhile, if you are in the US and you spot Sciencebase syndicated on Reuters, Biospace, USAtoday.com, Chicago Sun Times, mysanantonio.com, Livestrong, Atlanta Journal Constitution, Austin American Statesman, coxohio.com, or discovery.com let me know.