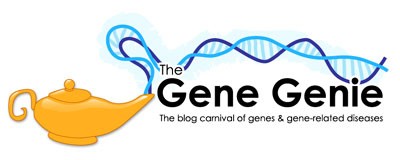 Sciencebase is this week proud to play host to the Gene Genie Blog Carnival thanks to an offer from Bertalan "Berci" Meskó over on the excellent ScienceRoll. For those who don't already know, a Blog Carnival doesn't usually involve a lot of be-costumed revellers dancing through the streets to the sound of the samba band, but is a gathering of like-minded bloggers brought together through the power of the tubular Interwebs to share their latest posts on a given subject.
The Gene Genie carnival has an obvious theme. No, it's not the songs of aging but outlandish popster David Bowie. No, it's not the magical character of Arabian Nights entombed in a lamp, and no it's nothing to do with quasi-sci-fi-retro-fit BBC cop show Ashes to Ashes. It's about genes. See, I told you it was obvious.
Anyway, the carnival (from the Latin carnis, meaning meat, and levare, to put away) covers some of the hot topics in the world of genes, genetics, DNA and all things inherited.
So, here we go:
In the realm of personalized genetics: