2010 Haiti Earthquake
You can find out how you can help Haiti following its devastating earthquake by visiting the Whitehouse.gov site if you're in the USA or the Disasters Emergency Committee for UK readers.
We've embedded the Google Person Finder application below, which will hopefully help bring people back together as communications infrastructure and ad hoc connectivity is rebuilt in Haiti over the coming days, weeks, and months.
The 2010 Haiti earthquake was a magnitude 7.0 Mw earthquake centred about 16 km from Port-au-Prince, Haiti, at 16:53 local time on Tuesday 12th January 2010.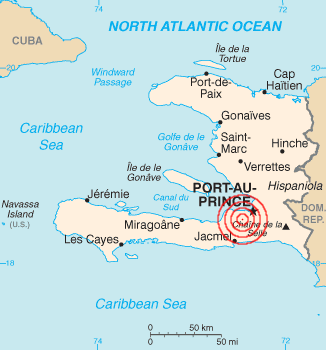 The earthquake occurred at a depth of 10 km and the United States Geological Survey recorded a series of aftershocks, ten of them above magnitude 5, including two measuring 5.9 and 5.5.
Most of Port-au-Prince's major landmarks have been damaged in the earthquake, including the Presidential Palace, the National Assembly building, the Port-au-Prince Cathedral and at least one hospital. 1000s were injured and many dead. The United Nations reported that the headquarters of the United Nations Stabilization Mission in Haiti (MINUSTAH), located in the capital, sustained serious damage and that a large number of UN personnel were unaccounted for.
The last time an earthquake of this magnitude hit the south of Hispaniola, the island that Haiti shares with the Dominican Republic, was in 1751.
The quake occurred at the northern boundary of the Caribbean tectonic plate, which shifts eastwards by about 20 mm annually, relative to the North American plate. The strike-slip fault system in the region has two branches in Haiti, the Septentrional fault in the north and the Enriquillo-Plaintain Garden fault in the south; seismic data suggests that the 12th January 2010 quake was on the Enriquillo-Plaintain Garden fault, which had been "locked" solid for 250 years, gathering stress. The stress would have been relieved either by a large earthquake or a series of smaller ones. It is reported that the surface along the fault may have been offset in places by approximately 1 metre.
Incidentally, we've personally donated to the DEC emergency fund and will also forward any AdSense profits from this page.